Estrategia de incremento de la Reducción de la Pobreza en Países Pobres
Palabras clave:
Reducción de la pobreza, Crecimiento económico, Pobreza
Resumen
Este documento sintetiza y desarrolla las investigaciones realizadas por los participantes del proyecto "Opciones de política macroeconómica para el crecimiento y reducción de la pobreza" desarrollado por el North-South Institute para los países en desarrollo y de bajos ingresos.2 El proyecto analiza las características del crecimiento y de la pobreza en siete países pobres con distintas condiciones y políticas macroeconómicas para el crecimiento y reducción de la pobreza diferentes. La investigación se enmarco en la pregunta: "'¿En que medida la pobreza puede ayudar a encontrar la estrategia de crecimiento?" Nuestra investigación provee evidencia de los canales a través de los cuales el crecimiento, la distribución o los procesos de pobreza dependen el uno del otro de manera conjunta a las políticas. Hemos englobado los mensajes de cada uno de los casos de estudio en las siguientes seis proposiciones discutidas a lo largo de este documento: i) la estabilidad macroeconómica reduce la pobreza; ii) la redistribución de la tierra aumenta el crecimiento; iii) las trampas de la pobreza e ingreso restringen el crecimiento; iv) las diferencias entre sectores urbanos y rurales llevan a una desigualdad del ingreso; v) las trampas regionales de la pobreza niegan el crecimiento; y vi) las principales políticas de crecimiento pueden agravar las brechas de pobreza. Las proposiciones sugieren que las políticas de crecimiento podrían ser de dos tipos en términos del impacto sobre la distribución y el crecimiento. Ellas tienen el potencial de, o bien aumentar tanto el crecimiento como la distribución (win-win), o bien incrementar solo el crecimiento mientras empeora la brecha del ingreso y viceversa (win-lose).
Descargas
Los datos de descargas todavía no están disponibles.
Citas
Aghion. Philippe, Eve Caroli and Cecilia Garcia-Penalosa. 1999. "Inequality and economic growth: the perspective of the new growth theories". Journal of Economic Literature XXXVII: 161 5-60.
Bigsten, Arne and Abebe Shimeles. 2003. "Prospects for 'pro-poor' growth in Africa". Economic Commission for Africa, Economic Policy Research Center, Research paper ESPD/NRP/2003/4, available at www.uneca.org/eca_resources/Meetings_Events/espd/poorgrowth/.
Cashin, Paul, Paolo Mauro, Catherine Pattillo and Ratna Sahay. 2001. "Macroeconomic policies and poverty reduction: stylized facts and an overview of research". IMF Working Paper 01/135. September.
Dutt, Pushan and Devashish Mitra. 2002. "Endogenous trade policy through majority voting: an empirical investigation". Journal of International Economics 58: 107-33.
Easterly, William. 2002. "Inequality does cause underdevelopment: New evidence". Center for Global Development. Working Paper 1. June
----------. 2001. The Elusive Quest for Growth. The MIT Press, Cambridge, Massachusetts and London, England.
Fischer, Ronald. 2001. "The evolution of inequality after trade liberalisation" Journal of Development Economics 66: 555-79.
Hanmer, Lucia, Niek de Jong, Rachel Kurian and Jos Mooij. 1999. "Are the DAC targets achievable? Poverty and human development in the year 2015". Journal of International Development 11: 547-63.
Hirschman, Albert O. 1955. Strategy of economic development. Yale University Press, New Haven.
International Development Association and International Monetary Fund. 26 March 2002. "Review of the Poverty Reduction Strategy Paper (PRSP) approach: early experience with interim PRSPs and full PRSPs".
Lundberg, Mattias and Lyn Squire. 2003. "The Simultaneous evolution of growth and inequality". The Economic Journal 113: 326-44.
Marcus, Rachel and John Wilkinson. 2002. "Whose poverty matters? Vulnerability, social protection and PRSPs". Childhood Poverty Research and Policy Centre. Working Paper 1.
Murphy, Kevin M., Andrei Shleifer and Robert Vishny. 1989. "Income distribution, market size, and industrialization". The Quarterly Journal of Economics 104/3: 537-64.
Osmani, Siddiqur Rahman. 2000. "Growth strategies and poverty reduction". Asian Development Review 18/2: 85-130.
Rodrik, Dani. 2004. "Growth strategies". Manuscript, August, available at http://ksghome.harvard.edu/~drodrik/growthstrat10.pdf
Sachs, Jeffrey D. 1987. "Trade and exchange rate policies in growth-oriented adjustment programs". In: V. Corbo, M. Goldstein and M. Khan (eds.). Growth-oriented adjustment programs (International Monetary Fund and The World Bank, Washington, D.C.).
Sen, Amartya. 2004. "Passage to China" The New York Review of Books. LI/19: 61-5.
Winters, L. Alan, Neil McCulloch and Andrew McKay. 2002. "Trade liberalisation and poverty: the empirical evidence". CREDIT research paper 02/22. October.
World Bank. 2000. Rural Development Indicators Handbook (Washington, D.C.).
----------. 2001. World Development Report 2000/01: Attacking poverty (Oxford University Press, New York).
Yao, Shujie, Zongyi Zhang and Lucia Hanmer. 2004. "Growing inequality and poverty in China" China Economic Review 15: 145-63.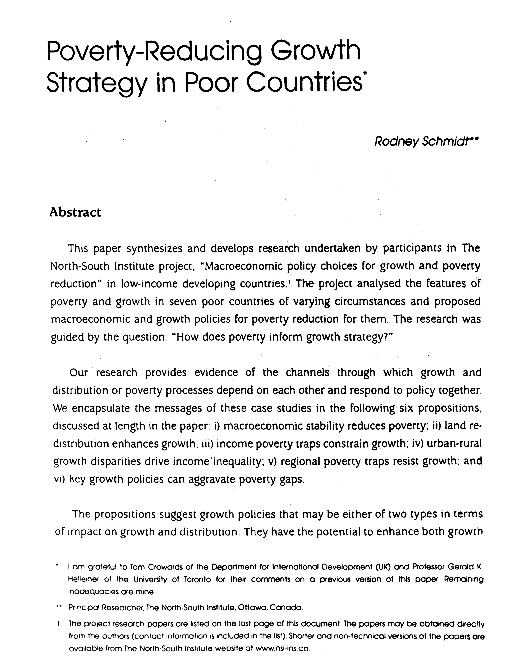 Descargas
Cómo citar
Schmidt, R. (2005). Estrategia de incremento de la Reducción de la Pobreza en Países Pobres. Revista Latinoamericana De Desarrollo Económico, 103–134. https://doi.org/10.35319/lajed.20050263