Testeando la hipótesis de la enfermedad holandesa en la economía boliviana
Palabras clave:
Enfermedad Holandesa, macroeconomía
Resumen
En los últimos años Bolivia ha experimentado una fuerte entrada de divisas debido en parte a un notable repunte en los precios de los recursos naturales que exporta, elemento que junto a la apreciación real ha generado la inquietud sobre si la economía nacional está experimentando la conocida Enfermedad Holandesa (EH). Este documento basado en condiciones de Oomes y Kalcheva (2007) para detectarla (apreciación real, menor crecimiento de la manufactura, crecimiento acelerado de los servicios y mayores salarios), concluye que no existe evidencia empírica sobre este fenómeno. En particular, no se advierte una sobrevaluación cambiaria ni un des-alineamiento persistente del tipo de cambio real, ni una desindustrialización manufacturera. La evolución del sector de servicios y sus precios, así como los salarios reales, no responden a la dinámica del sector en boom. Sin embargo, el documento considera que la presencia de este fenómeno merece una estrecha vigilancia.
Descargas
Los datos de descargas todavía no están disponibles.
Citas
Adam, Christopher S. and David L. Bevan, (2003), "Aid, Public Expenditure and Dutch Disease," Centre for the Study of African Economies Working Paper 2003–02 (Oxford: University of Oxford).
Cerutti, Eugenio and Mario Mansilla (2008), Bolivia: The Hydrocarbons Boom and the Risk of Dutch Disease. IMF, Working paper: WP/08/154. June 2008.
Clark, P., and R. MacDonald, (1998), "Exchange Rate and Economic Fundamentals: A Methodology Comparison of BEERs and FEERs," IMF Working Paper 98/67 (Washington: International Monetary Fund).
Corden, W. Wax, and J. Peter Neary, (1982), "Booming Sector and De-Industrialisation in a Small Open Economy," The Economic Journal, Vol. 92 (December), pp. 825–48.
Corden, M., (1984), "Booming Sector and Dutch Disease Economics: Survey and Consolidation," Oxford Economic Papers, Vol. 36, November, pp. 359–80.
Delgadillo, Maria, and Rolando Pardo, (2005), Ingresos del Sector Hidrocarburos, Una Aproximación a la Incidencia Fiscal del Sistema Tributario en el Sector Hidrocarburos en los Periodos Pre y Post Capitalizacion, UDAPE.
Edwards, Sebastian, (1989), Real Exchange Rates, Devaluation, and Adjustment (Cambridge, Massachusetts: MIT Press).
Gylfason, Thorvaldur, (2004), "Natural resources and Economic growth: from dependence to diversification," CEPR Discussion paper 4804.
Koranchelian, T., (2005), "The Equilibrium Real Exchange Rate in a Commodity Exporting Country, Algeria's Experience," IMF Working Paper No. 05/135 (Washington: International Monetary Fund).
Mevius, François-Xavier de e Albarracin, Ivan (2008), Bolivia and the Dutch Disease: What are the Risks and How to Avoid Them? Documento de Trabajo No. 09/08, IISECUCB.
Oomes , Nienke & Kalcheva, Katerina, 2007. "Diagnosing Dutch disease: Does Russia have the symptoms?," BOFIT Discussion Papers 7/2007, Bank of Finland, Institute for Economies in Transition.
Paiva, C., (2006), "External Adjustment and Equilibrium Exchange Rate in Brazil," IMF Working Paper 06/221 (Washington: International Monetary Fund).
Sachs, Jeffrey D. and Andrew M. Warner, (1995) (revised 1997 and 1999), "Natural resource abundance and economic growth," National Bureau of Economic Research Working Paper No. 5398 (Cambridge, Mass: NBER).
Sala-i-Martin, Xavier, and Arvind Subramanian, 2003, "Addressing the Natural Resource Curse, An Illustration from Nigeria," IMF Working Paper 03/139 (Washington: International Monetary Fund).
Zalduendo, J., (2006), "Determinants of Venezuela's Equilibrium Exchange Rate," IMF Working Paper 06/74 (Washington: International Monetary Fund).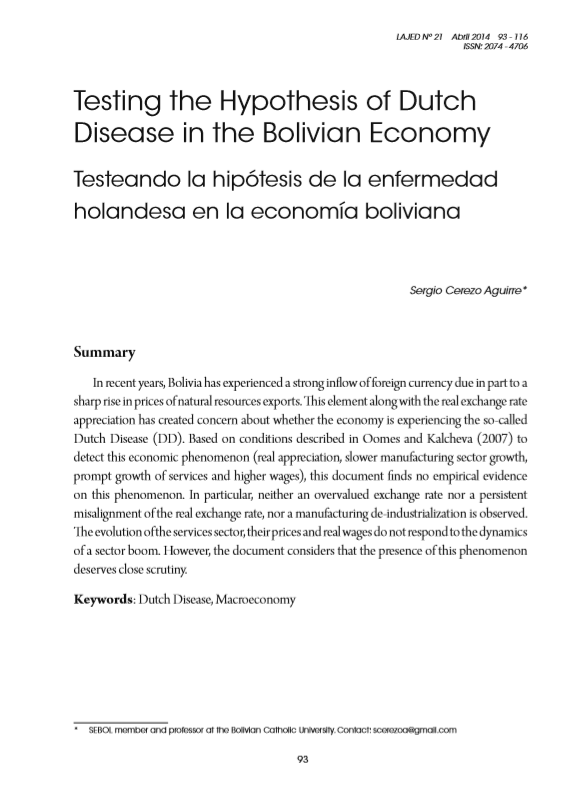 Descargas
Cómo citar
Cerezo Aguirre, S. (2014). Testeando la hipótesis de la enfermedad holandesa en la economía boliviana. Revista Latinoamericana De Desarrollo Económico, (21), 93–116. https://doi.org/10.35319/lajed.20142196