Términos del intercambio y desequilibrios gemelos: evidencia para Argentina
Palabras clave:
desequilibrios gemelos, términos de intercambio, modelos de VEC, Cuentas Nacionales base 1993, Argentina
Resumen
Este trabajo investiga la validez de la hipótesis de los desequilibrios gemelos (fiscal y externo) en el caso de una economía pequeña, como Argentina. El trabajo analiza, a través de modelos de VEC (modelo de corrección de errores), las relaciones de largo plazo entre la cuenta corriente, el déficit fiscal (o excedente), la inversión y los términos de intercambio, para el período 1993-2012. Los resultados sugieren que incrementos en el déficit fiscal y en la inversión deterioran el saldo de la cuenta corriente. A su vez, el resultado fiscal anticipa (causalidad, en sentido de Granger) a la cuenta corriente y a la inversión, pero no a la inversa.
Descargas
Los datos de descargas todavía no están disponibles.
Citas
Altintas, Halil y Taban, Sami (2011). "Twin Deficits Problem and Feldstein-Horioka Hypothesis in Turkey: ARDL Boung Testing Approach and Investigation of Causality". International Research Journal of Finance and Economics, (74), 30-45.
Bagheri, Farzane; Keshtkaran, Salma y Hazrati, Fatemeh (2012). "Twin Deficits and Feldstein-Horioka Puzzle in the case Iran". Journal of Social and Development Sciences, (5), 167-71.
Barro, Robert (1974). "Are Government Bonds Net Wealth?". Journal of Political Economy, (82), 1095-1117.
---------- (1989). "The Ricardian Approach to Budget Deficits". Journal of Economic Perspectives, (3), 37-52.
Cortés Conde, Roberto (2013). "El descontrol del gasto público jaquea a la democracia". La Nación, 17 de septiembre (http://www.lanacion.com.ar/1620506-8000-car-od-et-ullaore-rostin-ut-ashdhas-asdel-descontrol-del-gasto-jaquea-a-la-democracia).
Damill, Mario; Frenkel, Roberto y Juvenal, Luciana (2003). "Las cuentas públicas y la crisis de la convertibilidad en la Argentina". Documento de trabajo. CEDES. Buenos Aires. 1-43.
Edwards, Sebastian (2001). "Does the Current Account Matter?". National Bureau of Economic Research (NBER). Working Paper N° 8275.
Feldstein, Martin y Horioka, Charles (1980). "Domestic Savings and International Capital Flows". The Economic Journal, (90), 314-29.
Fountas, Stilianos y Tsoukis, Chistopher (2000). "Twin Deficits, Real Interest Rates and International Capital Mobility". National University of Ireland (Galway). Working Paper N° 49.
Johansen, Soren (1988). "Statistical Analysis of Cointegration Vectors". Journal of Economic Dynamics and Control, (12), 231-54.
Johansen, Soren y Juselius, Katarina (1990). "Maximum Likelihood Estimation and Inference on Cointegration-with Application to the Demand for Money". Oxford Bulletin of Economics and Statistics, (52), 169-210.
Keifman, Saul (2004). "Auge y derrumbe de la convertibilidad argentina: lecciones para Ecuador". Iconos, N° 19. FLACSO. Quito, Ecuador, 25-34.
Kouassi, Eugene; Mougoue, Mbodja y Kymn, Kern (2004). "Causality Tests of the Relationship between the Twin Deficits". Empirical Economics, (29), 503-25.
Lütkepohl, Helmut (1991). "Introduction to Multiple Time Series Analysis". Springer Verlag, Berlin.
Marinheiro, Carlos (2008). "Ricardian Equivalence, Twin Deficits and the Feldstein-Horioka Puzzle in Egypt". Journal of Policy Modeling, (30), 1041-56.
Megarbane, P. (2002). "Slovakia's External Current Account Deficit: Why so large and is it Sustainable?". Country Report 210. IMF. Washington, DC.
Mohammadi, Hassan y Moshrefi, Golaleh (2012). "Fiscal Policy and the Current Account new evidence from four East Asian Countries". Applied Economics Letters, (19), 167-173.
Nickel, Christiane y Vansteenkiste, Isabel (2008). "Fiscal Policies, the Current Account and Ricardian Equivalence". European Central Bank. Working Paper Series N° 935. Septiembre.
Obstfeld, Maurice y Rogoff, Kenneth (1995). "The Intertemporal Approach to the Current Account". En: G. Grossman y K. Rogoff (eds.), Handbook of International Economics, vol. III. Amsterdam. Elsevier, 1731-99.
---------- (1996). "The Six Major Puzzles in International Macroeconomics: is there a Common Cause?". Working Paper N° 7777. NBER, Cambridge.
Sachs, Jeffrey (1981). "The Current Account and Macroeconomic Adjustment in the 1970s". Brookings Papers on Economic Activity. 1. 201-282.
Xuan Lam, Nguyen (2012). "Twin Deficits Hypothesis and Feldstein-Horioka Puzzle in Vietnam". International Research Journal of Finance and Economics, (101), 169-178.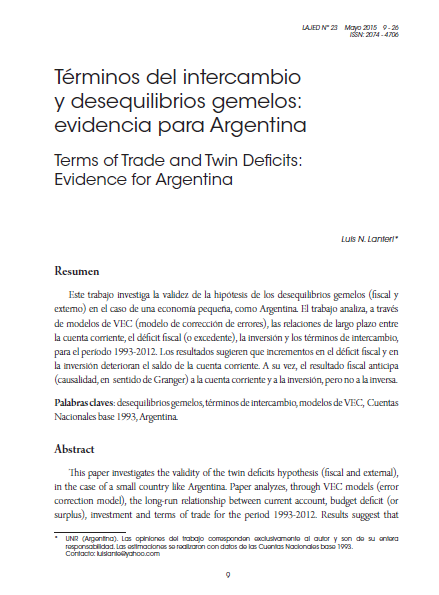 Descargas
Cómo citar
Lanteri, L. N. (2015). Términos del intercambio y desequilibrios gemelos: evidencia para Argentina. Revista Latinoamericana De Desarrollo Económico, (23), 9–26. https://doi.org/10.35319/lajed.20152374