Instituciones políticas y colapsos de crecimiento
Palabras clave:
Manejo de conflictos, Choques económicos, Recuperación
Resumen
Este documento evalúa si los resultados de Rodrik (1999) de que las instituciones para el manejo de conflictos están asociadas con la capacidad de reaccionar ante los choques económicos son robustos a diferentes formas de definir la calidad de tales instituciones. En este documento, medimos la calidad de las instituciones de gestión de conflictos con dos índices diferentes. El primero es un índice de restricciones políticas sobre la capacidad del ejecutivo para imponer su voluntad. Estas restricciones limitan la capacidad del gobierno para cambiar arbitrariamente las reglas del juego y, por lo tanto, pueden reducir las luchas redistributivas. El segundo índice mide el grado de particularismo político. Definimos el particularismo político como la capacidad de los formuladores de políticas para avanzar en su carrera al atender intereses limitados en lugar de plataformas nacionales más amplias. Los índices utilizados en este documento resuelven los sesgos de endogeneidad y subjetividad que afectan la principal medida de calidad institucional de Rodrik. Encontramos un fuerte apoyo a la idea de que los altos niveles de restricciones políticas y los niveles intermedios de particularismo político están asociados con una rápida recuperación de las crisis económicas.
Descargas
Los datos de descargas todavía no están disponibles.
Citas
Baqir, Reza (1999) "Districts, Spillovers, and Government Overspending." mimeo, University of California at Berkeley.
Cain, Bruce, Ferejohn, John, and Fiorina, Morris (1987) The Personal Vote: Constituency Service and Electoral Independence. Cambridge: Harvard University Press.
Carey, John, and Shugart, Matthew (1995) "Incentives to Cultivate a Personal Vote: A Rank Ordering of Electoral Formulas." Electoral Studies 14: 417-439.
Cox, Gary (1990) "Centripetal and Centrifugal Forces in Electoral Systems." American Journal of Political Science 34: 903-935.
Cox, Gary (1997) Making Votes Count: Strategic Coordination in the World's Electoral Systems. Cambridge: Cambridge University Press.
Graham, Carol, Merilee Grindle, Eduardo Lora, and Jessica Seddon (1999) Improving the Odds: Political Strategies for Institutional Reform in Latin America. Latin American Research Network, Inter-American Development Bank.
Jaggers, Keith and Ted Robert Gurr (1996) "POLITY III: Regime Change and Political Authority, 1800-1994" Ann Arbor, MI: Inter-University Consortium for Political and Social Research
Henisz, Witold (2000) "The Institutional Environment for Economic Growth." Economics and Politics, 12: 1-31.
La Porta, Rafael, Florencio Lopez de Silanes, Andrei Shleifer, and Robert Vishny (1999), The Quality of Government. Journal of Law Economics and Organization 15, 222-279.
Mainwaring, Scott, and Timoty Scully (1995) Building Democratic Institutions: Party Systems in Latin America. Stanford: Stanford University Press.
Milesi-Ferreti, Gian-Maria, Roberto Perotti, and Massimo Rostagno. 2002. "Electoral Systems and Public Spending." Quarterly Journal of Economics 117(2):609-657
Myerson, Roger (1999) "Theoretical Comparisons of Electoral Systems." European Economic Review, 43: 671-697.
Panizza, Ugo (2001) "Electoral Rules, Political Systems, and Institutional Quality." Economics and Politics 13: 311-342.
Reynolds, Andrew (1997) International IDEA Handbook of Electoral System Design. Stockholm: International IDEA.
Rodrik, Dani (1999) "Where Did All the Growth Go? External Shocks, Social Conflict and Growth Collapses." Journal of Economic Growth, 4: 385-412.
Rodrik, Dani (2000a) "Participatory Politics, Social Cooperation, and Economic Stability." Mimeo, Harvard University.
Rodrik, Dani (2000b) "Development Strategies for the Next Century." Mimeo, Harvard University.
Rodrik, Dani (2000c). "Institutions for High Quality Growth: What They Are and How to Acquire Them?" NBER Working Paper N. 7540.
Sealy, Thomas (1999) International Country Risk Guide, East Syracuse, PRS Group.
Seddon, Jessica, Alejandro Gaviria, Ugo Panizza and Ernesto Stein (2003) "Particularism Around the World," World Bank Economic Review17: 133-143.
Shugart, Matthew (2001) "Extreme Electoral Systems and the Appeal of the Mixed-Member Alternative." In Matthew Shugart and Martin Wattenburg, eds., Mixed-Member Electoral Systems, The Best of Both Worlds? New York: Oxford University Press.
Taagepera and Shugart (1989) Seats and Votes: The Effects and Determinants of Electoral Systems. New Haven: Yale University Press.
Tornell, Aaron, Philip Lane (1998.) "The Voracity Effect." American Economic Review, 89: 22-46.
Weingast, Barry, Shepsle, Kenneth, Johnsen, Christopher (1981) "The Political Economy of Benefits and Costs: A Neoclassical Approach to Distributive Politics." Journal of Political Economy, 89: 642-64.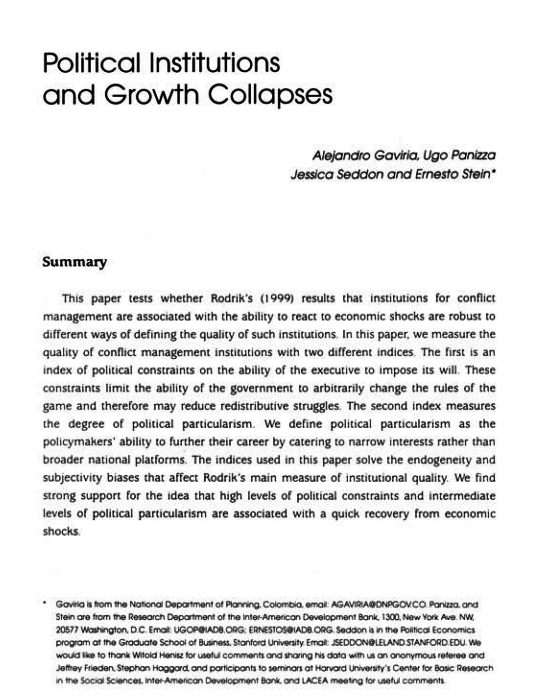 Descargas
Cómo citar
Gaviria, A., Panizza, U., Seddon, J., & Stein, E. (2004). Instituciones políticas y colapsos de crecimiento. Revista Latinoamericana De Desarrollo Económico, (2), 11–32. https://doi.org/10.35319/lajed.20042318