Años perdidos: informalidad y retornos a la educación en Bolivia
Palabras clave:
Retornos a la educación, informalidad, Bolivia
Resumen
En los últimos años, algunas estimaciones mostraron un bajo retorno a la educación en Bolivia. Con el uso de dos bases de datos, la encuesta anual de hogares y una base novedosa de demanda de habilidades, se encuentra una forma no lineal de los retornos de la educación. Incluso, se mejora la estimación con el uso de un enfoque de mercados laborales segmentados. Junto a una técnica de pareo se estiman modelos que apoyan la hipótesis de que este patrón se debe al alto grado de informalidad. Finalmente se discute las formas en las cuales esta relación puede ser mejorada con la inclusión de habilidades y un enfoque de equilibrio general de búsqueda de empleo en mercados segmentados.
Descargas
Los datos de descargas todavía no están disponibles.
Citas
Andersen, L. (2016, June 13). Does education pay in Bolivia? Inesad Development Roast. https://inesad.edu.bo/developmentroast/2016/06/does-education-pay-in-bolivia/
Bassi, M., Busso, M., Urzua, S. & Vargas, J. (2012) Disconnected: Skills, Education, and Employment in Latin America. Inter-American Development Bank. https://publications.iadb.org/en/disconnected-skills-education-and-employment-latin-america
Bobba, M., Flabbi, L. & Levy, S. (2018). Labor Market Search, Informality and Schooling Investments (IDB Working Paper Series Nº 863). https://publications.iadb.org/en/labor-market-search-informality-and-schooling-investments
Caliendo, M. & Kopeinig, S. (2008). Some Practical Guidance for the Implementation of Propensity Score Matching. Journal of Economic Surveys, 22(1), 31-72. https://doi.org/10.1111/j.1467-6419.2007.00527.x
Card, D. & Lemieux, T. (2001). Can Falling Supply Explain the Rising Return to College for Younger Men? A Cohort-Based Analysis. The Quarterly Journal of Economics, 116(2), 705-746. https://www.jstor.org/stable/2696477
Cramer, J. S. (2003) Logit Models from Economics and other Fields. Cambridge University Press.
Glewwe, P. (1992). The Three-Choice Multinomial Probit With Selectivity Corrections. Econometric Theory, 8(2), 302-304. https://www.jstor.org/stable/3532448
Gunther, I. & Launov, A. (2006). Competitive and Segmented Informal Labor Markets (IZA Discussion Papers N° 2349). https://docs.iza.org/dp2349.pdf
Heckman, J., Lochner, L. & Todd. P. (2006). Earnings Functions, Rates of Return and Treatment Effects: The Mincer Equation and Beyond. In E. Hanushek & F. Welch (eds.), Handbook of the Economics of Education (pp. 307-458). Elsevier. https://doi.org/10.1016/S1574-0692(06)01007-5
Heckman, J. (1979). Sample Selection Bias as a Speciffication Error. Econometrica, 47(1), 153-161. https://www.jstor.org/stable/1912352
Mincer, J. (1974). Schooling , Experience, and Earnings. National Bureau of Economic Research. https://econpapers.repec.org/bookchap/nbrnberbk/minc74-1.htm
Narayanan, A. (2015). Informal employment in India: Voluntary choice or a result of labor market segmentation? Indian Journal of Labour Economics, 58(1), 119-167. https://doi.org/10.1007/s41027-015-0009-9
Solon, G., Haider, S. & Wooldridge, J. (2015). What Are We Weighting For? Journal of Human Resources, 50(2), 301-316. https://doi.org/10.3368/jhr.50.2.301
Urquidi, M. (2015). ¿Es suficiente estudiar para lograr un buen trabajo? Factor Trabajo. https://goo.gl/yk4yGM
Vargas, J.P.M. & Garriga, S. (2015). Explaining inequality and poverty reduction in Bolivia (IMF Working Papers 15/265). https://www.imf.org/external/pubs/ft/wp/2015/wp15265.pdf
Velasco, D. (2015). Informal Economy in Bolivia: Analysis, Evaluation and Quantification Based on Cash Monetary Effective Demand Approach (period 1994-2014). Investigación & Desarrollo, 15(2), 76-89. https://www.upb.edu/sites/default/files/adjuntos/7-I&D215-Velasco-Abs_0.pdf
Villarroel, P. & Hernani, W. (2011). ¿La educación todavía paga? La disminución de retornos a la educación en la Bolivia urbana (Technical report). Fundación ARU.
Villarroel, P., Hernani, W. & Eid, A. (2012). Entrepreneurship and economic mobility. a case of study of Bolivia (Technical report). Fundación ARU.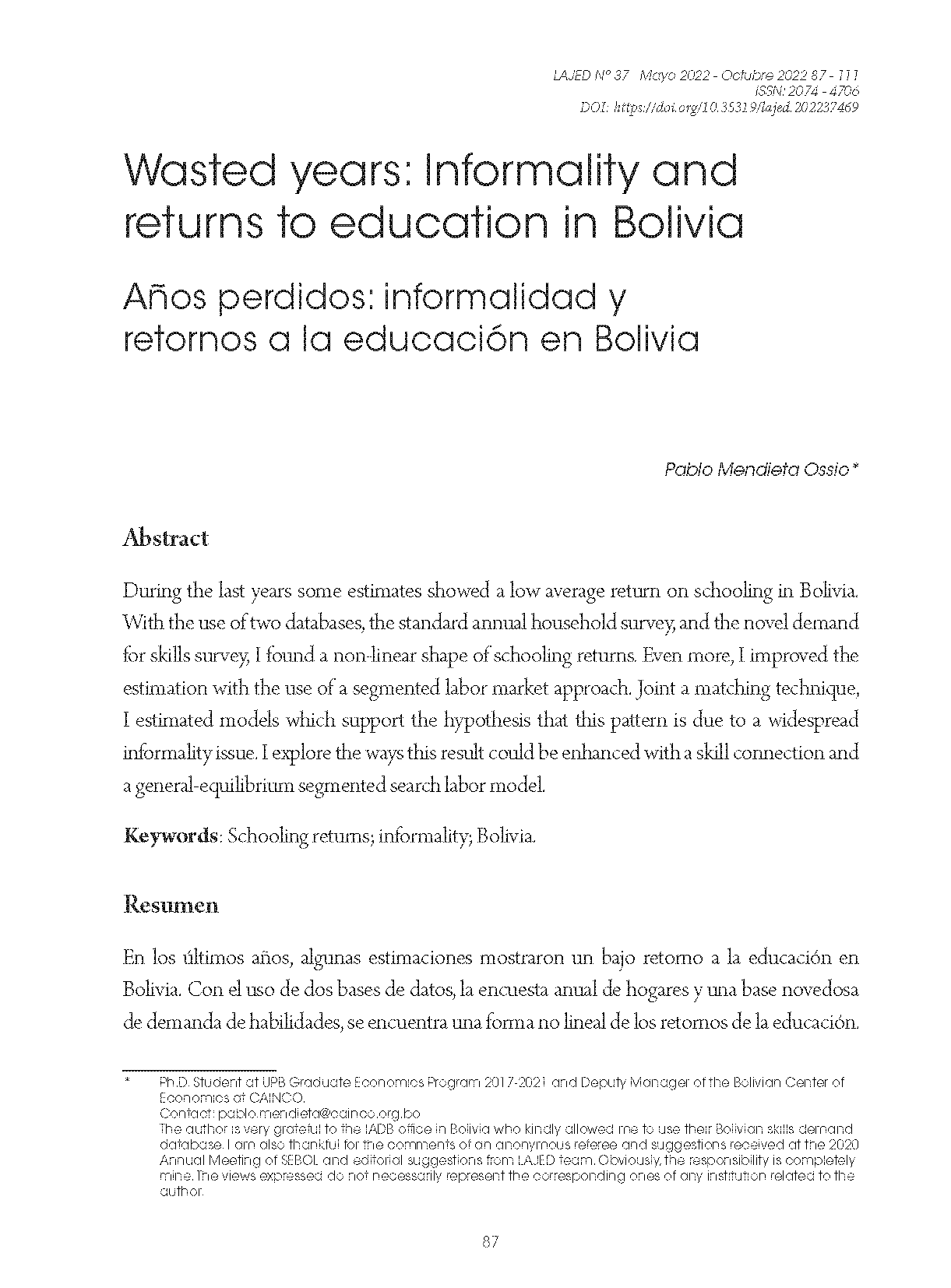 Descargas
Cómo citar
Mendieta Ossio, P. (2022). Años perdidos: informalidad y retornos a la educación en Bolivia. Revista Latinoamericana De Desarrollo Económico, (37), 87–111. https://doi.org/10.35319/lajed.202237469
Licencia
Derechos de autor 2022 Revista Latinoamericana de Desarrollo Económico
Esta obra está bajo una licencia internacional Creative Commons Atribución-NoComercial 4.0.