La regulación del comercio en Bolivia: de la economía informal al mercado extralegal
Palabras clave:
Sociología económica, Antropología económica, Economía cultural, Costumbres, Normas sociales
Resumen
Este artículo estudia el mercado de equipos electrónicos en La Paz. Se analizan los mecanismos sociales y los discursos alrededor de la regulación de la competencia y de la cooperación entre los diferentes actores, negocios familiares y empresas multinacionales. Se busca mostrar que el mercado está constituido por diversos espacios de regulación cuyos actores co-producen y aplican normas no necesariamente codificadas por el sistema jurídico. Se propone la noción de "mercado extralegal" para conceptualizar estos espacios que hacen referencia a fuentes sociales y empresariales de autoridad y legitimidad para el control de la competencia y la coordinación de las transacciones.
Descargas
Los datos de descargas todavía no están disponibles.
Citas
Altenburg, T. y J. Meyer-Stamer. 1999. "How to Promote Clusters? Policy Experiences from Latin America". World Development, 27(9),1693-1713. Disponible en: https://doi.org/10.1016/S0305-750X(99)00081-9.
Aspers, P. y J. Beckert. 2008. Märkte. En: M. Maurer (ed.), Handbuch der Wirtschaftssoziologie, Wiesbaden. VS Verlag für Sozialwissenschaften.
Beckert, J. 2007. "The Great Transformation of Embeddedness. Karl Polanyi and the New Economic Sociology". MPIfG Discussion Paper 07/1. Max Planck Institute for the Study of Societies.
Beckert, J. y M. Dewey. 2017. The Architecture of Illegal Markets. Towards an Economic Sociology of Illegality in the Economy. Oxford: Oxford University Press.
Beckert, J. y F. Wehinger. 2011. "In the Shadow Illegal Markets and Economic Sociology", MPIfG Discussion Paper 11/ 9, Cologne. Max Planck Institute for the Study of Societies.
Blanes, J. 2017. El subsistema fronterizo boliviano en la globalización de los mercados ilegales. Quito: FLACSO.
Bourdieu, P. 2001. Las estructuras sociales de la economía. Buenos Aires: Manantial.
CEDLA. 1986. El sector informal en Bolivia. La Paz: CEDLA/FLACSO/ILDIS.
Clark, G. 1994. Onions Are My Husband: Survival and Accumulation by West African Market Women. Chicago: University of Chicago Press.
Dent, A. 2012. "Piracy, Circulatory Legitimacy, and Neoliberal Subjectivity in Brazil". Cultural Anthropology, 27(1): 28-49.
Dewey, M. 2016. "Porous Borders: The Study of Illegal Markets from a Sociological Perspective". MPIfG Discussion Paper 16/2, Cologne. Max Planck Institute for the Study of Societies.
Dilley, R. 1992. "Contesting Markets. A general introduction to market ideology, imagery and discourse". En: R. Dilley (ed.) Contesting Markets: Anthropology of Ideology, Discourse and Practice, Edinburgh: Edinburgh University Press.
Felzensztein, C. et al. 2014. "International Marketing Strategies in Industrial Clusters: Insights from the Southern Hemisphere". Journal of Business Research, 67 (5): 837-846. Disponible en: https://doi.org/10.1016/j.jbusres.2013.07.002.
Fernández-Kelly, P. y J. Shefner. 2008. Out of the Shadows. Political Action and the Informal Economy in Latin America, University Park. The Pennsylvania State University Press.
Fligstein, N. 1996. "Markets as Politics: A political Cultural Approach to Market Institutions". American Sociologial Review, 61 (4), 656-673.
Geertz, C. 1978. "The Bazaar Economy: Information and Search in Peasant Marketing". The American Economic Review, 68(2), 28-32.
Giddens, A. 1990. The Consequences of Modernity. Stanford, CA. Stanford University Press.
Gray Molina, G. 2007. "El reto posneoliberal de Bolivia". Nueva Sociedad, N° 209,118- 129.
Guyer, J. 2004. Marginal gains: Monetary transactions in Atlantic Africa. Chicago. University of Chicago Press.
Giuliani, E., C. Pietrobelli y R. Rabellotti. 2005. "Upgrading in Global Value Chains: Lessons from Latin American Clusters". World Development, 33 (4): 549-573.Disponible en: https://doi.org/10.1016/j.worlddev.2005.01.002.
Lins Ribeiro, G. 2012. "La globalización popular y el sistema mundial no-hegemónico". Nueva Sociedad, 241: 36-62.
Mathews, G. y Y. Yang. 2012. "How Africans Pursue Low-End Globalization in Hong Kong and Mainland China". Journal of Current Chinese Affairs, 41(2): 95-120.
Matos Mar, J. 1984. Desborde popular y crisis del Estado. Lima: Instituto de Estudios Peruanos.
Pereira, R. et al. (coord.) 2009. Para escuchar las voces de la calle: el comercio en vía pública en La Paz. La Paz: PIEB.
Pinheiro-Machado, R. 2013. "Copied products and the informal economy in Brazil and China. Outlining a comparison of development models". Vibrant, 9 (1): 335-359.
Porter, M.E. 2000. "Location, Competition, and Economic Development: Local Clusters in a Global Economy". Economic Development Quarterly, 14:15–34.Disponible en: https://doi.org/10.1177/089124240001400105.
Programa de Naciones Unidas para el Desarrollo (PNUD). 2005. Informe Temático de Desarrollo Humano en Bolivia: la economía boliviana más allá del gas. La Paz: Programa de Naciones Unidas para el Desarrollo.
Portes, A. y R. Schauffler. 1993. "Competing Perspectives on the Latin American Informal Sector". Population and Development Review, 19(1), 33-60.
Quijano, A. 1998. La economía popular y sus caminos en América Latina. Lima: Mosca Azul Editores.
Rojas, B. 1992. La batalla en las calles. La participación de las organizaciones del comercio minorista en las reformas institucionales y políticas en la ciudad de La Paz. La Paz: OITCEDLA.
Rojas, R. 2016. La Feria 16 de Julio (jach´a qhatu) de El Alto, Bolivia. ¿Territorio o aglomerado de exclusión? Quito: FLACSO.
Smart, A. y F. M. Zerilli. 2015. "Extralegality". En: D. Nonini (ed.), A Companion to Urban Anthropology. West Sussex. John Wiley y Sons.
Tassi, N., A. Hinojosa y R. Canaviri (eds.) (2015). La economía popular en Bolivia: tres miradas. La Paz: Centro de Investigaciones Sociológicas/Vicepresidencia del Estado.
Tassi, N. et al. 2013. "Hacer plata sin plata". El desborde de los comerciantes populares en Bolivia. La Paz: Fundación PIEB.
Van Schendel, W. y I. Abraham. 2005. Illicit Flows and Criminal Things. States, Borders, and the Other Side of Globalization, Bloomington/Indianapolis. Indiana University Press.
Wanderley, F. 2012. "Pluralismo económico, mercado y Estado". En: G. Gosálvez (coord.), La Paz: Vicepresidencia del Estado Plurinacional de Bolivia/ Fundación Boliviana para la Democracia Multipartidaria.
White, H. 2002. Markets from Networks. Socioeconomic models of production. Princeton and Oxford, Princeton University Press.
Zelizer, V. 2011. Economic lives: how culture shapes the economy. Princeton, Princeton University Press.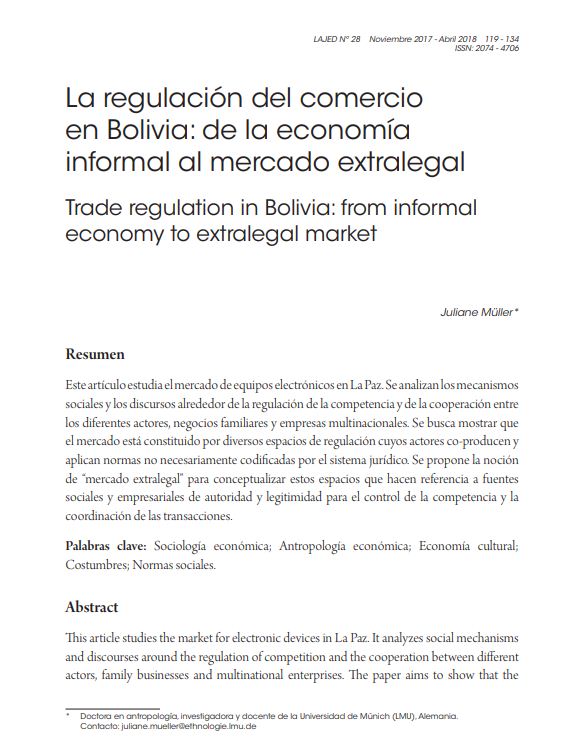 Descargas
Cómo citar
Müller, J. (2017). La regulación del comercio en Bolivia: de la economía informal al mercado extralegal. Revista Latinoamericana De Desarrollo Económico, (28), 119–134. https://doi.org/10.35319/lajed.20172841